As part of the Criminal Enterprises DLC drip-feed, Rockstar finally dropped the Service Carbine into the game this week. You basically have to collect parts for it from a series of locations across the map. This guide will help you unlock the Service Carbine quickly and efficiently. For those of you who aren't aware, this rifle is meant to resemble the classic M16 rifle.
If you haven't already, also be sure to collect the other new item that dropped in the same DLC – the metal detector. A full guide on that is here.
In addition, once you have finished unlocking it, you may want to get across its pros and cons in the performance guide here.
Unlock the Service Carbine – The Components
The scavenger hunt to unlock the rifle requires you to collect 5 components in total (rifle parts). They are:
barrel
mag
receiver
sights
scope
The parts are found in crime scenes, which appear as a small blue blips on your map – these expand into a circle when you get close. The blue blip on the map is identical to other instances of side missions (e.g. picking up the key off of a drunk guard from Cayo Perico, or a drug vehicle).
Crime Scene Locations
Paleto Bay
Grapeseed
Alamo Sea
Ron Alternatives Wind Farm
Chumash
West Vinewood
La Mesa
Del Perro Beach
Strawberry
Elysian Island
Additionally, the map below shows each specific location. There are 10 possible crime scene locations in total. Note that you do not need to find all 10 of these locations. You just need to find 5 crime scenes (you won't get duplicate parts).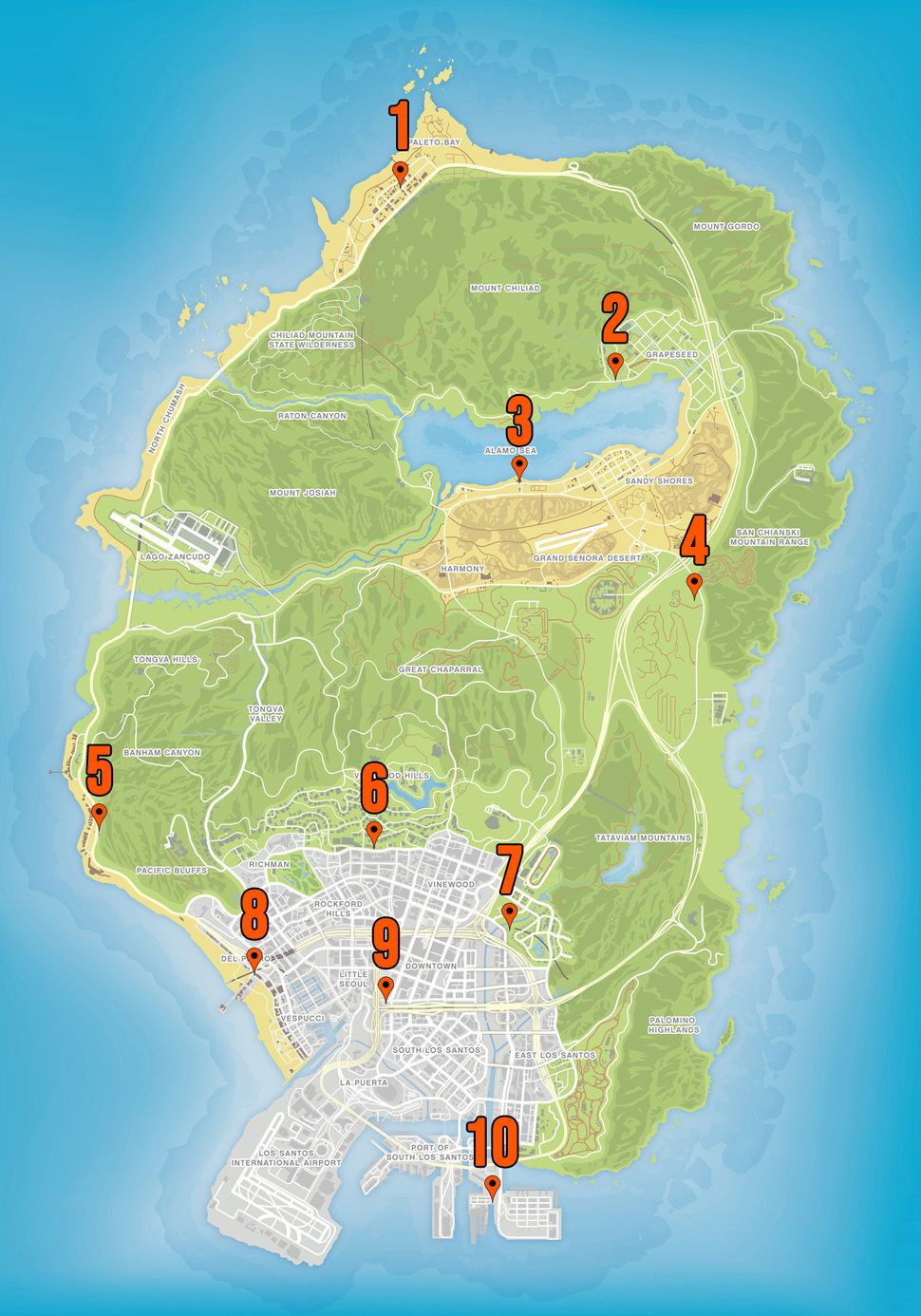 The crime scenes spawn randomly after 20 minutes of being online. So there is a process of trial and error (I suggest getting a chopper or MK2 and fly past these spots at low altitude till the blue blip appears).
Tip: these crime scenes also spawn in Invite Only sessions.
Once you reach each crime scene, you will get a 2 or 3 star wanted level. Be quick to take out the handful of cops at the scene, pick up the part (look on the ground closely, on foot), and make a run for it before more cops arrive.
At the moment, this is the only way to unlock the Service Carbine. Later on it may be available for sale on Ammu-Nation. Going by recent events, it will cost about GTA$500K even if they do that, so doing this hunt instead is worthwhile either way.